Post by Cobra King Mohamdu on Apr 21, 2014 20:42:46 GMT -5
this basically summarizes free perfectly
and then the best part was that even hardcore neckbeards who despise fujoshit had to admit it was a good show
one reason for its success besides the 5 main characters is because kyoani was smart enough to include two key, necessary characters.
the first is Gou, the girl who basically gets to live every 16 year old girl's dream: she's gets to spend every day surrounded by tons of incredibly athletic, muscular guys, who completely ignore her, only care about competing with one another and basically just pretend she isn't even there 99% of the time except when they need something done. her face when
naturally, this character is important so that all the fujoshit watching the series can self-insert and relate to her. also they can't make her ugly, because that would make fujoshit self-conscious, and god forbid you do that.
the second character is a recognition of just how far kyoani has come in the modern age. most anime companies prefer to completely ignore the existence of faggotry, however, kyoani knows that tons of homos will be watching their show. so naturally, they created nitori, the annoying faggot no one likes:
click for bigger version
basically, he's fangirl of the year. nitori swims too, but it's not like anyone cares since he's a long distance swimmer (yawn) instead of being a 100m speed swimmer like the 5 main characters. His name's characters literally sound like "Bird that looks like his mother, #1 loving lad" in Japanese.
basically nitori spends all day praising his senpai Rin trying to make him feel better about himself, constantly rambling about how much better of a swimmer rin is than him, basically rubbing his balls all day while rin yells at him to fuck off and leave him alone. which of course fuels his midnight rin-powered fap sessions. seriously, he fucking loves rin.
of course, you don't want faggots watching the show to feel self-conscious either, so nitori looks decent too. just not as good as rin.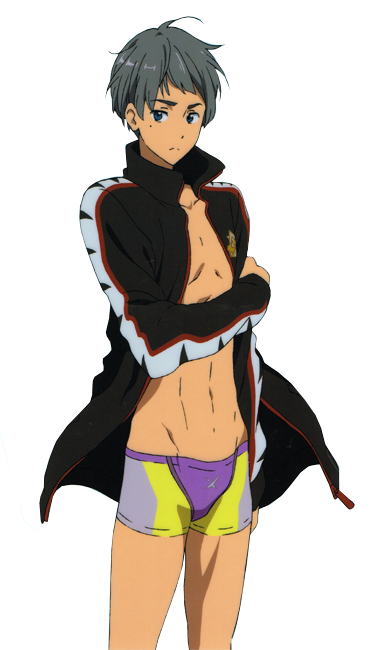 the audience is just told that "Nitori really admires his senpai". Frees have no idea what sex is, they just love teamwork, swimming and competition. The show would literally tank and all the sales would stop if any free characters (besides Gou) showed any kind of sexual interest in anyting.
basically all of the things i've stated are why free was a work of genius. also that water
good god how the fuck do you even animate water looking that good? kyoani did it again