Post by Cobra King Mohamdu on Feb 24, 2017 20:19:11 GMT -5
In this thread we discuss the superiority of the Sony Master Race and the enormity of Kaz Hirai's massive Japanese Yakuza cock.
Every truly original game released in this decade have one thing in common: they're all funded by Sony. If you don't have a Playstation 4 by 2017, you have essentially missed the 8th gen of gaming up to now.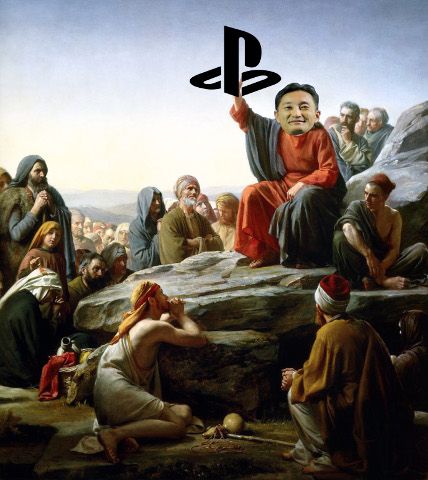 This is my PS4 Pro's home screen.
Nier will supposedly have a broken PC version in 8 years, FFXV sold anemically on Xbone and SFV has PC crossplay (only with Sony) because Kaz slapped his dick on the CEO of Capcom's desk, but besides that every single one of these games is a Sony exclusive. The only games I ever play on PC anymore are Overwatch, Starcraft and Guilty Gear. And even Guilty Gear makes me want to get it on PS4 because the community is better and netplay works better. I'll fucking admit it: Sony's infrastructure works way too fucking well. You can play games as soon as they drop and 99% of the time, everything just fucking works. And if it doesn't, they instantly patch it. Steam lets devs basically do whatever they want. Kaz literally kicks down the doors of every game developer in his pantheon and personally whips their CEOs asses with his belt until they have a patch ready within a matter of hours. Typical Sony efficiency. Also I love how Sony proved that the autism of Nintendo can't simply be blamed on their Japaneseness: Sony is Japanese too and yet they're completely dominating the home console market and hardware development.
www.forbes.com/sites/erikkain/2017/02/23/sonys-2017-lineup-of-ps4-exclusives-is-insanely-amazing
Here's an autistic Sony rant with jazz music for you to enjoy
Hell just my amazon wishlist is full of Sony exclusives now. Also Horizon arriving in the mail on Tuesday. After realizing Horizon was basically Zelda with a good plot, better gameplay and vastly superior graphics, I completely lost interest in Breath of the Wild. I have too many fucking games and no time to play them! Sony is literally drowning me with video games. Just fuck my Mastercard up famalam. Tekken 7, MAHVEL and Ace Combat 7 are all on the list too because the best version that actually works will be on PS4. After buying the PS4 Pro my next step will be to buy the single most affordable cutting edge VR device on the market, the PlayStation VR.
It simply can't be helped. Sony is literally
#4ThePlayers
Also I'll just end the threadstart by spamming Kaz
God Bless Sony. Greatness truly does await.